Florist Johnstown, NY
Are you looking for Florist in Johnstown, NY? Give our shop a call at (518) 762-7755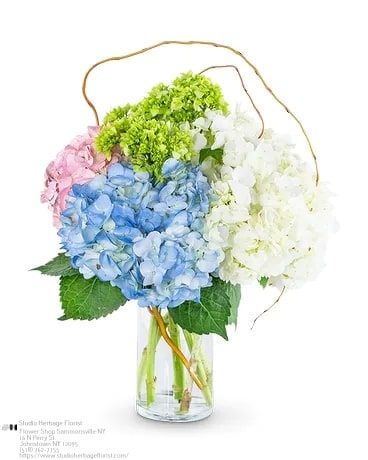 The Best Florist Near Me
Studio Herbage Florist is a florist in Johnstown, NY. A Short History of Floristry. The art of floristry traces back to Eastern practices. It started with styling flowers to give as presents to loved ones. Later, types of floral design rose up from Europe, Japan, and China. This led the way for floristry to become an official business. In the east, the oriental style of floral design emphasized the lines of flowers. Its main concern was designing compositions with a satisfying balance. This stems from their philosophies on harmony and unity. They express this aesthetic through blending flowers and foliage. In the West, the traditional style of floral design stressed the use of flowers en masse. It worked towards an asymmetrical effect. With this, it achieved rhythm and inspiration in the mix of flowers and greens. Floristry first became a business in the Netherlands in the mid-19th century. Merchants sold pre-made bouquets to their customers as decor. Over time, it became an industry offering bulk orders of flowers. It also provided gardening supplies for the care of flowers. Retail shops also offered freshly plucked blooms and arrangements. They designed bouquets for a wide variety of events based on customers' requests. Since the late 19th century, academic institutions have honored floristry as a formal course. Colleges across the Dutch islands were the very first to offer floristry programs. This trend spread across the continent of Europe. Soon, it came to the U.S., where the industry of flower shops began. Florists then made efforts to keep their status as a growing industry in the market. Today, most flower shops offer delivery services straight to the customer or recipient. They also present the option of placing orders via phone call or their shop's web page.
What Do Florists Do?
So now we know a whole lot more about floristry! We also discovered how it developed into a successful industry over time. What you may be asking next is: What is it that florists do, exactly? Florists are a part of some of the most meaningful moments in people's lives! We play a key role in birthdays, anniversaries, funerals, and many more events. We commit to helping people share themselves and their feelings through floral arrangements. We're devoted to giving top-quality service at all times. Whatever your needs are, we'll help you choose the perfect flowers and arrangement!
As florists, we help you celebrate events in your lives in a lovely and creative way. We let you express deep emotions through custom-made bouquets!
Call Studio Herbage Florist the flower delivery experts in Johnstown NY or surrounding areas today for your free estimate or if you have any questions, give us a call at (518) 762-7755

Find A Florist In Johnstown NY
Florist Services
Studio Herbage Florist; A floral design studio featuring the area's only AIFD accredited, professionally Certified Floral Designer! Show those you love how much you care with a gift of floral design & fiber arts from Studio Herbage Florist. We specialize in the extraordinary; from unique blooms to one-of-a-kind botanical art. Our tropical and mixed botanical arrangements and floral designs are absolutely breathtaking and will convey your feelings of love and appreciation in a gracious and beautiful way. Our modern floral studio is stocked with a curated selection of unique plants, flowers, and botanical curiosities to arouse any flower or plant lover. From Acacia to Zantedeschia, Aroma scented Geranium to Medinilla magnifica, we stock an intriguing array of interesting and unique botanicals to pique your curiosity. In addition to our everyday design work, Studio Herbage creates custom botanical art, floral objects, containers, and other works using time-honored handcraft techniques with natural embellishments. Our artwork and custom fiber art designs can be purchased via our retail store in Johnstown, NY, here on our website, or through various retail establishments. The use of botanical elements and natural materials informs the work of studio Herbage as it continues to push the boundaries of product design and artistic creation with project-specific collaborations between well-known designers, graphic artists, and locally sourced artisans.
Our Floristry Service:
Flower Delivery
Flower Design
Sympathy Flowers
Get Well Flowers
Birthday Flowers
Anniversary Flowers
Wedding Flowers
Flower Arrangements
Floral Bouquets
Why choose Studio Herbage Florist Services?
Since 2014, Studio Herbage Florist has handcrafted distinctive floral arrangements and botanically inspired gifts with same-day or expedited delivery in Johnstown and beyond, by our professionally trained and certified, award-winning design staff.
Florist Johnstown, New York
Are you in the Johnstown, New York area and are looking for a business that does flower delivery near me? Are you interested in having fresh flowers delivered? If the answer is yes, you have found a great resource to take care of all your florist needs. We are the best florist in Johnstown, NY. No arrangement is too big or too small for us. We provide full-service floristry services.
Sending a gift of flowers is always an excellent idea but how do you know which florist to choose when searching online? When you search for a florist near me how do you choose from all those options? At Studio Herbage Florist we get asked this question repeatedly and recommend you do your homework; search to see where the florist is located, are they really near you? We also recommend that you check out the florist's credentials - that's right, is the florist who will make your bouquet trained and certified in horticulture and floral design? Our floral designer, James Dempsey AIFD, CFD is certified by the American Institute of Floral Designers and has a Bachelor's Degree from the State University of New York in Ornamental Horticulture. Studio Herbage Florist commitment to you is 100% satisfaction on all your floral and gift purchases. If you are not completely satisfied, let us know by calling (518) 762-7755. We serve the areas:
Johnstown, New York
Johnstown is a city in and the county seat of Fulton County in the U.S. state of New York. The city was named after its founder, Sir William Johnson, Superintendent of Indian Affairs in the Province of New York and a major general during the Seven Years' War in North America. There's simply no other destination in the United States that can compare to this unique place. Its food and culture have no comparison, take a look at the best places to visit. Johnstown Coordinates 43.0067° N, 74.3676° W
Florist - Free Estimates - Call Today (518) 762-7755